Fictions as Practice
green gorgon << / >>he shot me down

OLZWEG
(Holzweg / Chemins qui ne mènent nul part / M. Heidegger)
''Le corps n'est qu'un ensemble de clapets, de sas, d'écluse, de bols, de vase communiquant, qui ignore l'opposition de l'un et du multiple'' / CsO G. Deleuze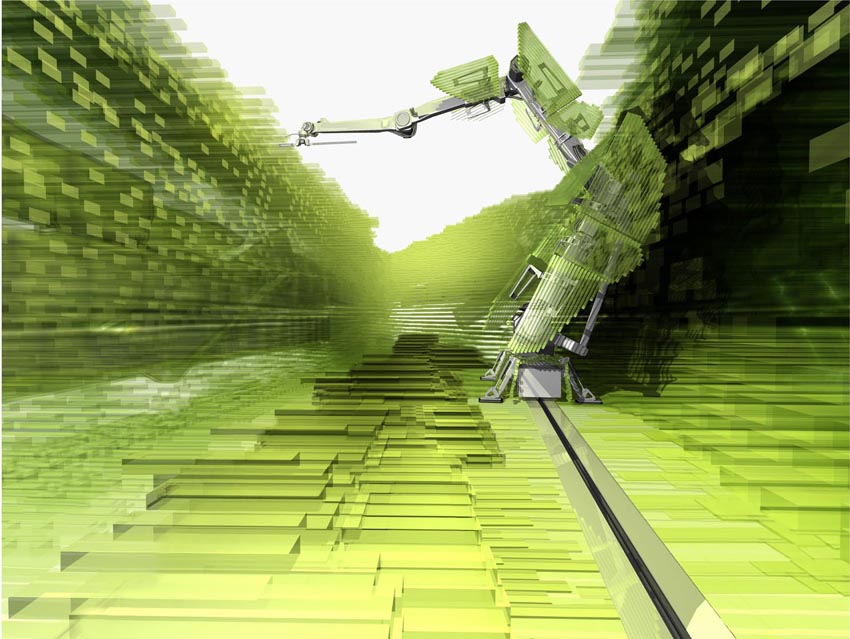 Movie of robot (quicktime /1 Mo)
Script of the aggregation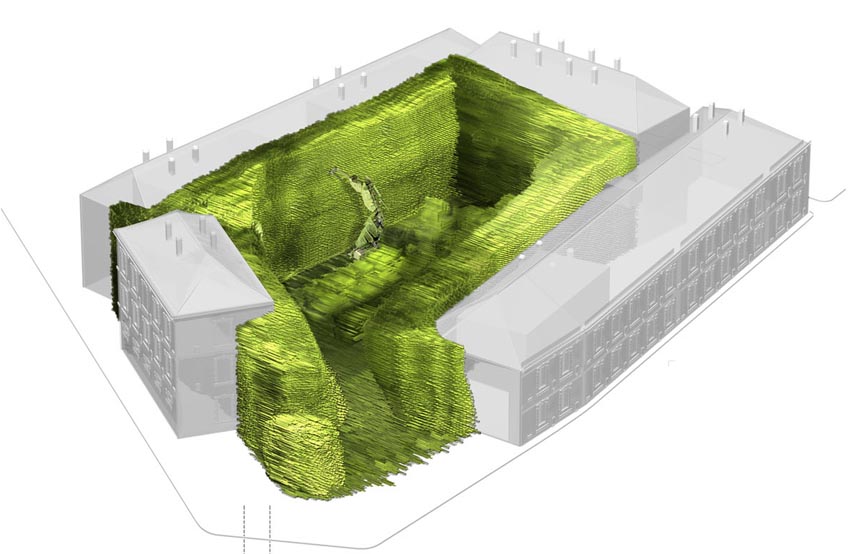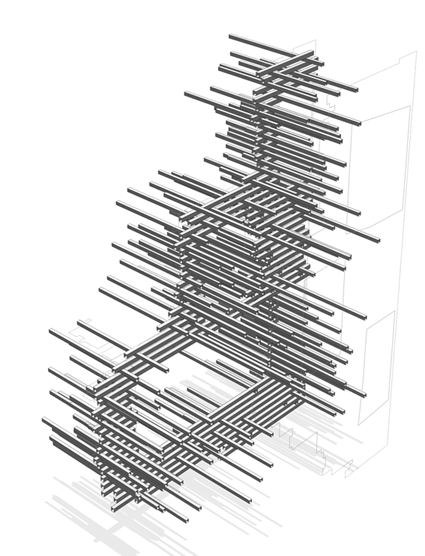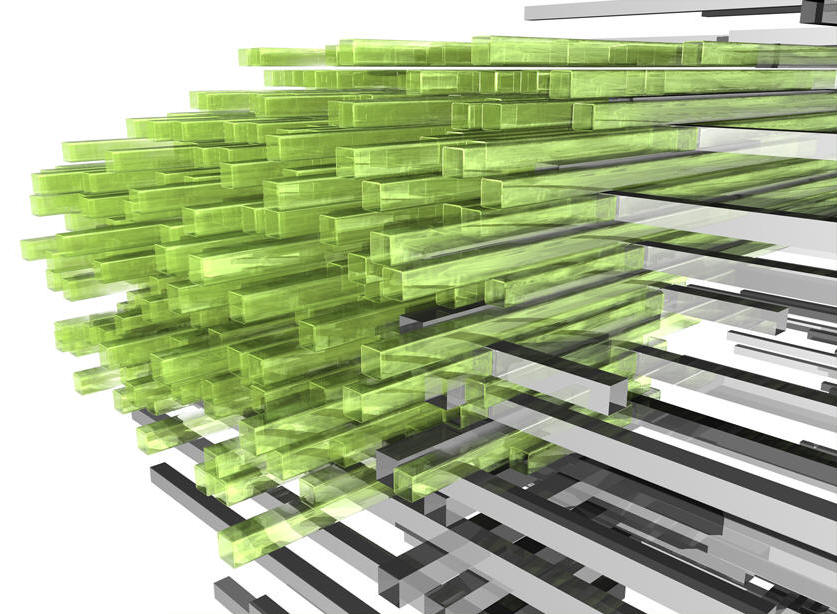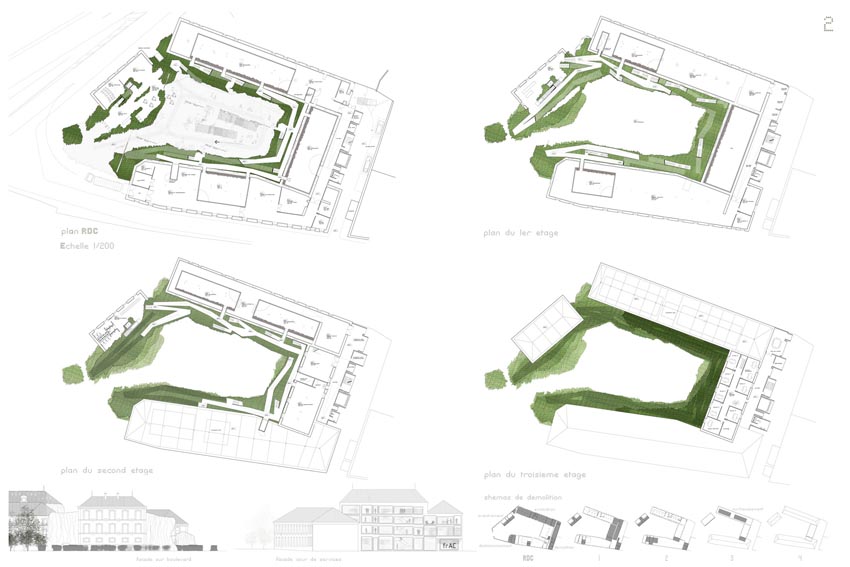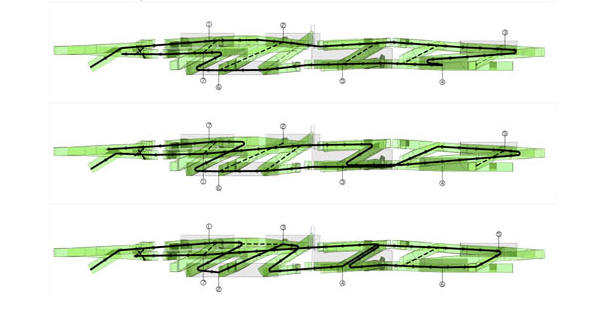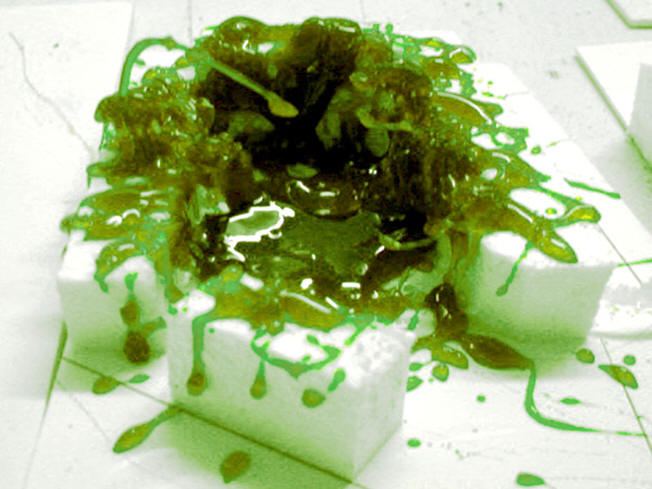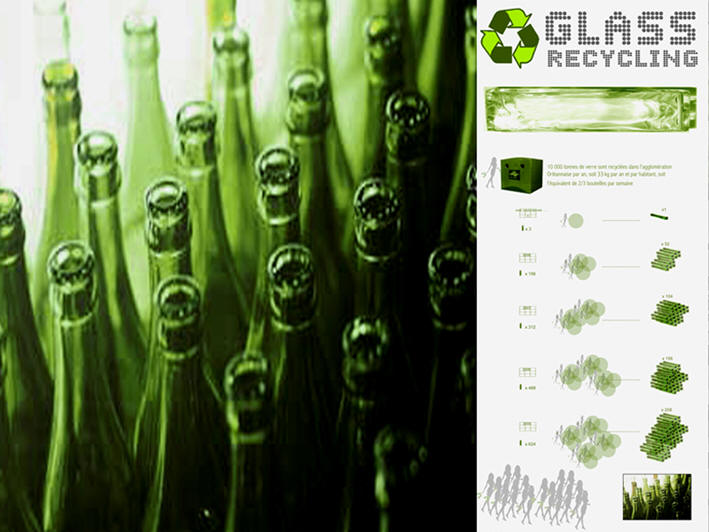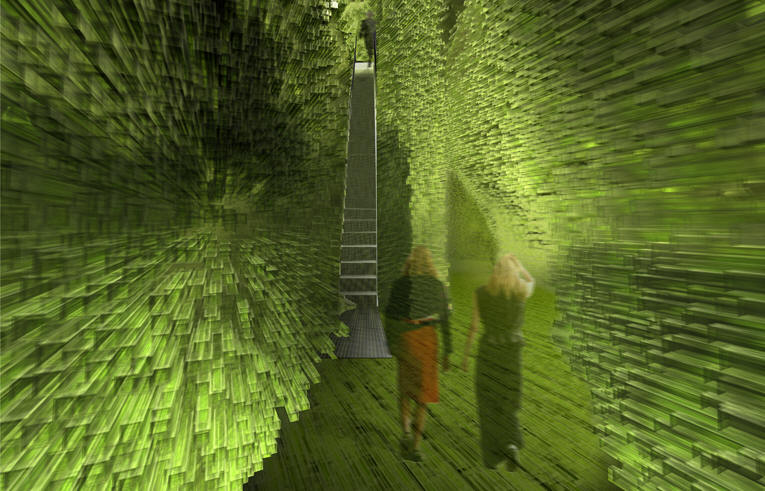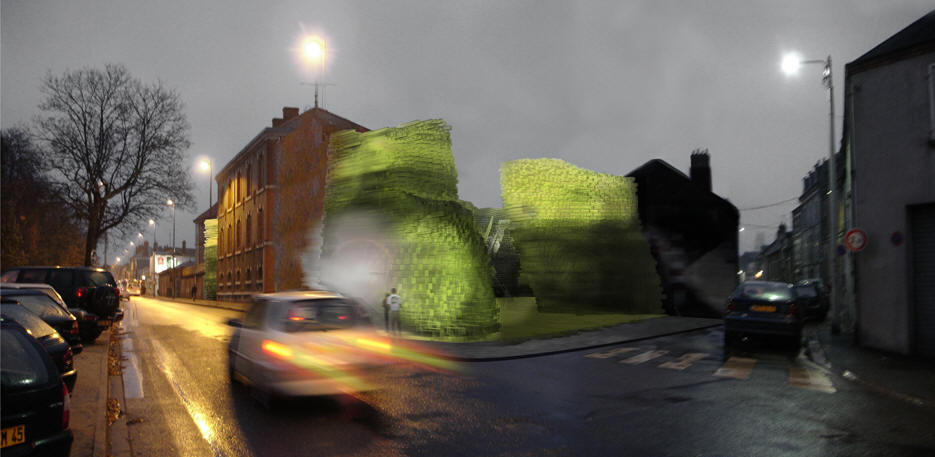 Scenario (english following)
1) La cour du bâtiment existant est engluée d'agrégats de verre afin de générer un enveloppement sur des procédures d'inachèvements et de positionnement aléatoire. Un script (algorithme) de dispersion a été écrit pour générer la randomisation des barrettes de verre. Les accès, flux labyrinthiques et cheminements hétérotopiques se déroulent dans l'épaisseur de cette «translucidité ».
2) Les procédures de construction et de nettoyage sont définis par l'intermédiaire d'une machine qui habite les lieux. Cette machine aux automatismes débrayables, dénommée Ozlweg (titre Allemand du livre d'Heidegger « Chemins qui mènent nulle part ») gère via le software embarqué l'incertitude de la forme finale, et la reprogrammation de celle-ci en cours de la construction. Cette proposition ouverte, d'un « mouvement en train de se faire » pour reprendre la définition du Baroque par Deleuze est ce qui constitue l'âme de notre projet ; un bâtiment à l'image de la collection et de la politique du Frac… une aventure, un « working process ». Cette proposition se situe aux antipodes de la production d'un signal, d'un Flagship, déterritorialisée, aveuglée de sa propre autonomie et suffisance.
3) Les éléments du verre sont issus de la filière recyclage (20 000 tonnes de verre par an dans la région Orléanaise) non seulement dans le but de réduire les coûts de fourniture de cette matière première mais aussi dans un souci « citoyen » afin que l'histoire d'un musée d'architecture se constitue sur une narration d'échange…et non sur la production d'un Totem Régalien et Colbertiste de quelque roitelet de province, comme c'est le cas en France depuis les « Grands Travaux » et le simulacre de décentralisation.
Bien que le projet respecte les dates d'ouverture et de reception, la programmation du chantier de verre est étalée sur plus de 10 ans afin que de développer une curiosité « Sagrada Famillia », d'une «chose en train de se faire » par l'intermédiaire d'Olzweg, la machine désirable Duchampienne.
4) Des procédures de repérage individuel de type RIFD (radio frequency identification) sont intégré. Chaque visiteur peut ainsi se perdre, s'initier aux cheminements labyrinthiques, accéder aux collections et aux expositions en naviguant dans le bâtiment via le téléphone cellulaire PDA fourni à l'entrée (GPS, Vidéo et Son sur les œuvres et Système de Navigation)
------------------------------
Précisions :
Le protocole robotique à la base de notre proposition R&Sie(n)/PierreHuyghe n'est pas un automatisme de construction, autonome, dans la poursuite d'une cybernétique technoïde. Il est principalement en mode de déplacement aléatoire le "poisson nettoyeur" des agrégats de verre, et devient par débrayage un engin de chantier lors de la phase de construction ....................phase qui est étirée sur une période de 10 ans pour faire naitre le sentiment d'une reprogrammation et d'une adaptation progressive…lors de cette phase des protocoles d'agrégations aléatoires automatisées devaient être expérimentées...
Mais nous ne sommes pas dans un atelier Renault-Peugeot-Citroën, avec un budget de 1200euros/m2

L'animal Olzweg participe à la narration du projet, dans son inscription réelle, machiniste et fictionnelle, dans la poursuite de «La Mariée mise à nue... », «La broyeuse de chocolat... », et autres protocoles de transformation.
Les paysages sont réels et imaginaires...s'affronter à ces subjectivités dédoublées...pour les construire simultanément dans l'ambivalence de leur deux champs...en contingences... sur un mode narratif et procédural...a la fois interstices de mémoire floutée liée à la Mass-Média-Culture et inscriptions aux creux de situations réelles...

La rumeur d'une chose en train de se faire...sur un mode incertain, à la fois scénario et bâtiment...c'est cela "Olzweg".
La machine en est le vecteur, le véhicule; une subjectivisation constructive.
Ce projet s'inscrit dans la poursuite de la recherche " I've heard about", fragment d'urbanisme auto-organisationnel, élaboré en 2005, exposé au Musée du XXIème siècle/Kanazawa /Japon, MAM/Musée d'Art Contemporain de la Ville de Paris, De Singel/Anvers/Belgique.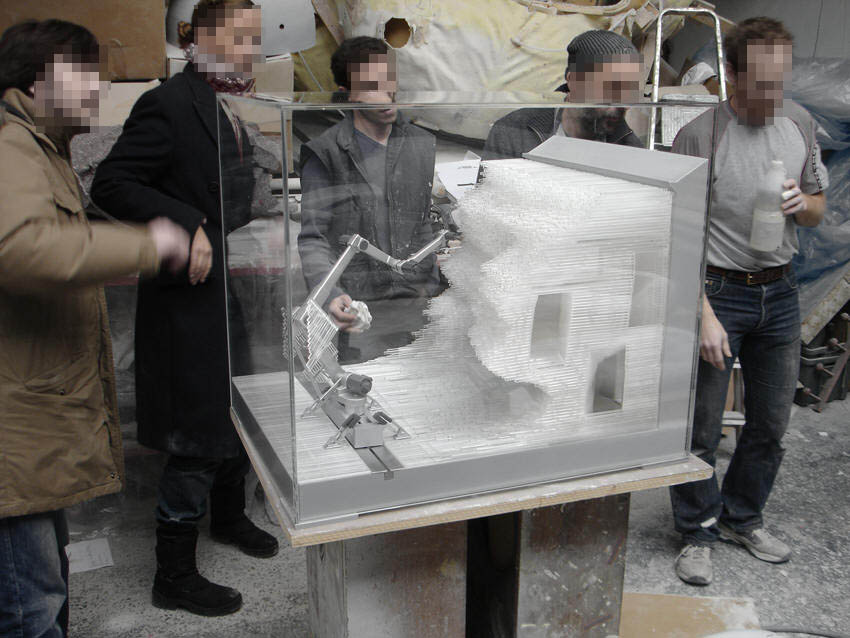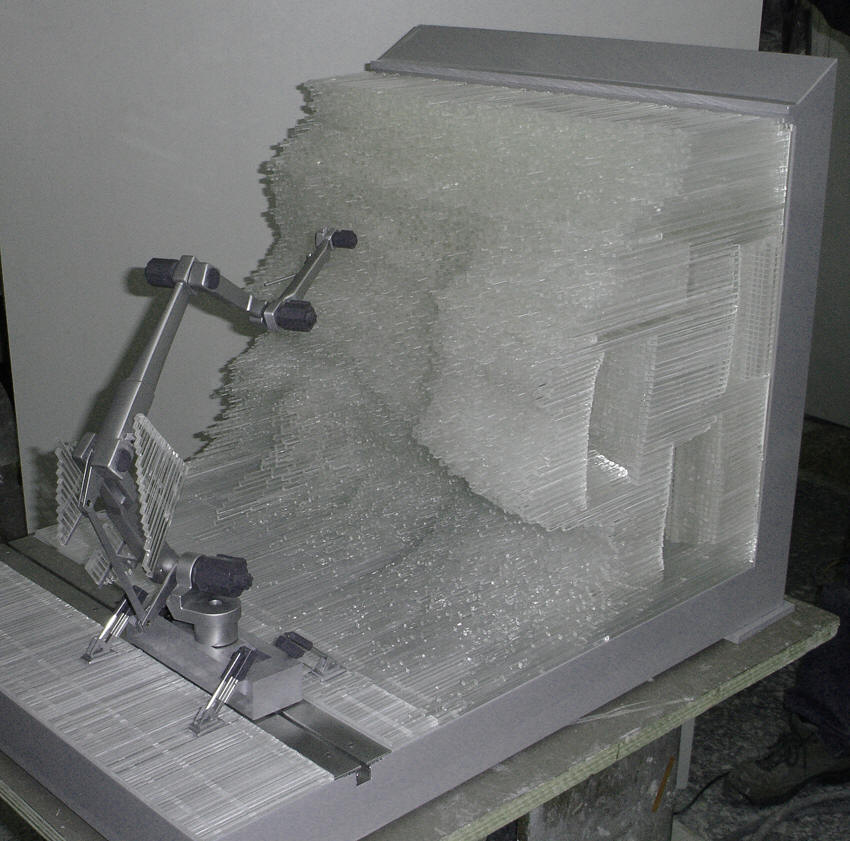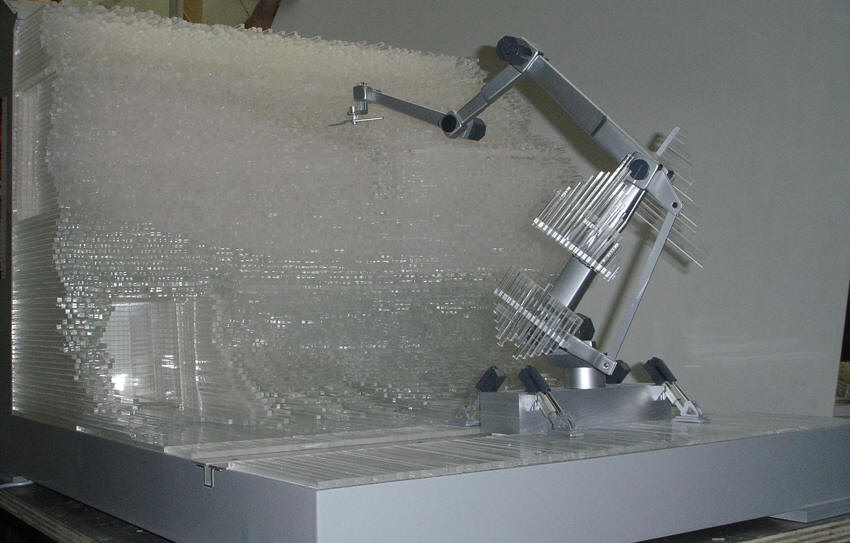 Interior design as the mirror double face / with Mathieu Lehanneur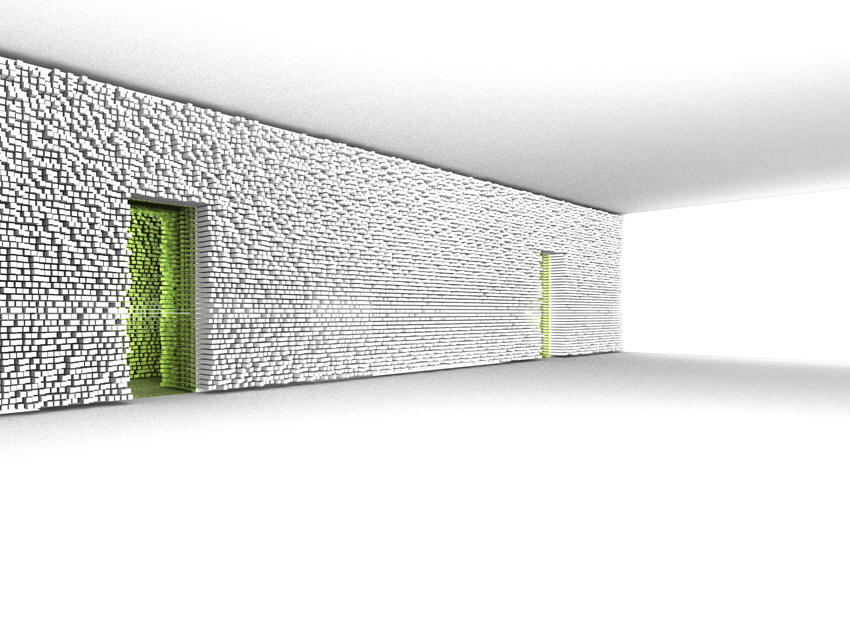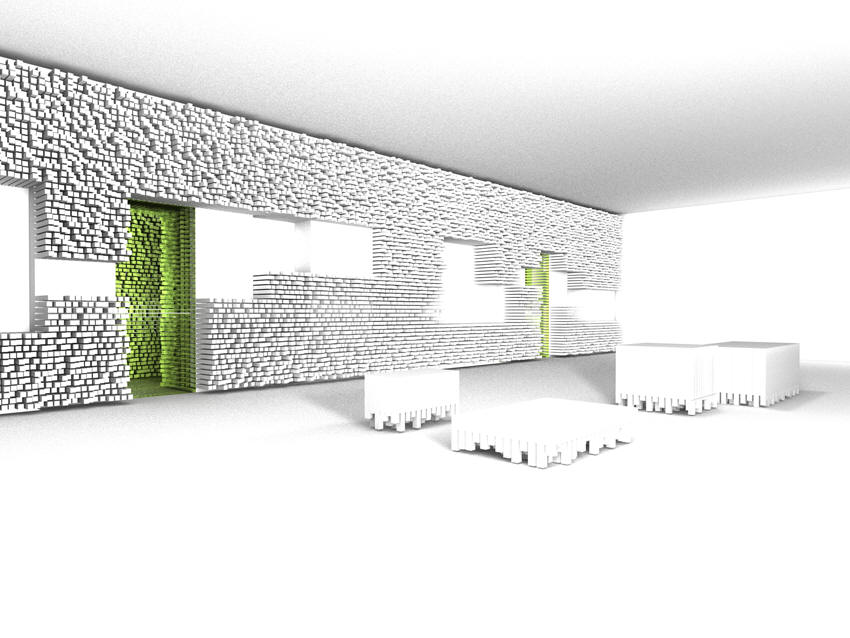 Olzweg
Paris, 2006, France
Architect: R&Sie(n)… Paris
Creative team: François Roche, Stephanie Lavaux, Jean Navarro,
With partners : Pierre Huyghe, Artist, Mathieu Lehanneur, Furniture Designer, Stephan Henrich, Robotic Designer, Nicholas Green, Facade Engineer, Ami Barak, Museum Expert, Sibat, Basic Engineer, Julien Blervaque, Script Programmer & Alexander Römer, Agnes Vidal, Daniel Fernández Florez, Gaëtan Robillard
Key dimensions: 5000 m2
Client : Frac Orléans / Région Centre
Situation : Orleans / France
Cost : 5 M€
Text :
Design of a Museum for Experimental Architecture
---------------------------
Scenario :
1) The courtyard of Frac is aggregated of glass stick in order to generate a gluing a smearing of the existing building as a potential of a Body Without Organ (a "going to be done" and unachieved process of construction) and inside the thickness of the glass a labyrinth walk way and accessibilities. A scattering script is written to develop the aggregation.
2) Procedures of constructions and cleanings are assisted by robots (with or without automatism) to introduce randomisation and uncertainty in the final shape and to be able to re-program the labyrinth during the construction itself…
3) The elements of glass are from a citizen glass recycling process in order to reduce the raw material costs and involve the inhabitants of the agglomeration in the "work to be done" story.
4) The construction schedule is planned on more than 10 years for the same reason…construction became a factor a desire with a desirable machine (Duchamp)
5) Using individual RIFD-PDA to force each visitor to accept to loose themselves in the glass maze and redefine their XYZ positioning according to the specificities of an exhibition (PAD with sound, video and local GPS)
Precisions;
The robot-like protocol at the base of our proposal R&Sie (N) /PierreHuyghe is not an automatism of construction, autonomous, in the continuation of a techno-cybernetics. It is mainly in random mode of displacement the "cleaning fish" of the aggregates of glass, and becomes by disengaging a machine of building site at the time of the phase of construction .................... phase which is stretched over one 10 years period to develop the self-reprogramming and progressive adaptation to the evolution of desires
We are not here in a Renault-Peugeot-Citroen workshop, with a budget of 1200euros/m²
The Olzweg animal takes part in the narration of the project, in its real, machinist and fictional inscription, in the continuation of "The Bride reveals herself as naked", "the crushing of chocolate… ", and other Duchamps protocols of transformation.
The landscapes are real and imaginary… to clash with these subjectivities duplicated… simultaneously to build them in the ambivalence of their two fields… in contingencies… on a narrative and procedural mode… at the same time interstices of blurred memory related to the Farmhouse-Media-Culture and inscriptions with the hollows of real situations…
The rumor of a thing being done… on a dubious mode, at the same time scenario and building… it is that "Olzweg".
The machine is the vector, the vehicle, for a constructive subjectivisation.
This project falls under the continuation of research "I' ve heard about'' fragment of self-organized town planning, elaborate in 2005, exposed to the Museum of the 21st century/Kanazawa /Japan, MAM/Museum of Contemporary art of Paris, De Singel/Antwerp/Belgium.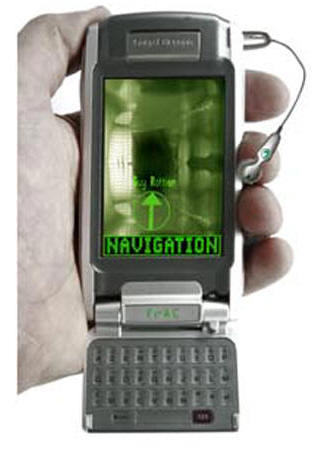 __________________________________________________


Precisions / Official claim
Au terme d'un premier tour et premier jury deux projets ont été déclarés lauréats (R&Sie(n) / JMF). Cela a entrainé une procédure de négociation avec un deuxième jury, lui étrangement composé uniquement d'administratifs aux ordres de la Région Centre et d'un maître d'ouvrage délégué déjà "en affaire" sur Paris avec l'une des équipes (musée de la mode de JMF), et cela sans aucune des personnalités extérieures ni architectes qui avaient composées le premier jury. Ce deuxième "jury" issu des recommandations de la MIQCP (Mission interministérielle pour la qualité des construction publique, c'est à dire l'officine de dérégulation des procédures d'anonymat et des petits arrangements du système Français) a été à la hauteur de ce dont il était chargé d'exclure...ou comment passer d'un concours international aux sous-sols nauséabond d'un conseil régional, sans aucun représentant du Frac lui-même ni de ses créateurs.
Bien que les agitations d'un mauvais perdant soient pour le moins suspectes voir ridicules, et que l'arbitraire des décisions soit intrinsèque à la nature d'un concours, R&Sie(n) conteste la procédure du deuxième tour à l'origine du choix final par un recours administratif en novembre 2006.

Dernieres Precisions janvier 07> A la demande du Frac, et pour éviter d'affaiblir ceux qui en sont a l'origine, R&Sie (n) retire sa plainte…

At the end of a first turn and first jury two projects were declared winner (R&Sie (n)/JMF). That involved a negotiating procedure with a second jury, it curiously only made up with slave administrative representation of the French region and the building developer already "in business" with JMF, and that without any the external personalities or architects who had composed the first jury. This second "jury" resulting from the recommendations of the MIQCP (Ministerial Mission for the Quality of French Public Construction, i.e. the dispensary of deregulation of the procedures of anonymity and small arrangements of the French system) was at the level of the business, in a total denial of the procedures of transparencies and equities ...or how to start by a International Competition to finish...or how to pass from an international contest to the basements nauseous of a regional council, without any representative of Frac itself and his creators.
Although agitations of a bad loser are at the very least suspect to see ridiculous, and that arbitrary decisions is intrinsic with the nature of a contest, and that particularly in our republican monarchy, R&Sie (N) dispute the procedure of the second turn at the origin of the final choice by an administrative claim in November 2006.
(JMF is JakobMacFarlane architecture team)
Last Precisions january 07> at the request of the Frac, asking NewT-R&Sie(n) to avoid to weak their own position in the regional administration, and specifically people at the origin of this art center, R&Sie(n) stop the claim prosecution...

How to win a competition in France / Turtle Creek-FGehry + DustyRelief-R&Sie(n) = Frac-Turbulences-JMF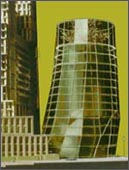 +

=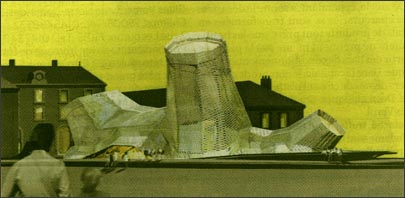 I s a F L A G S H I P a F L A G S H I T ? on Grey Strategies (français/english)/Une icone citationnelle vendue comme oeuvre originale est elle une pratique valide ?